What is Audio-Video integration?
Audio visual installations dramatically enhance your overall corporate presentations and capture the attention and imagination of your audience. The right combination of products and technology will ensure that your multimedia presentations are delivered with optimal impact. Audio-Video integration is the matrix design of an audio system and a video system to operate as one. The audio portion consists of speakers, amplification, a microphone system or teleconferencing interface. The video portion consists of a display device – a projector, LCD, or both, DVD player, a video conferencing system, document camera, interactive drawing panel, a resident PC, or any other video device. And of course, there must be an audio or video source for the system to broadcast – satellite TV, teleconference, video conference, music source, PC – you name it.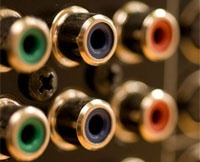 Why do I need automation control?
You need control so your audio – video presentation experience works smoothly every time. What does that mean? That means, in order to have the audio and video elements work in concert, the control system will act as the "traffic cop" for both systems – telling the audio system and the video system what to do, and when to do it – simultaneously. The control system usually consists of an LCD touch panel or a push button wall plate for function command operation. The other element of a control system is a multi-media wall plate where you can connect or disconnect auxiliary audio-video or networked devices, such as digital cameras, laptop computers, iPods/MP3's, DVD player, Ethernet & telecommunications connection, etc.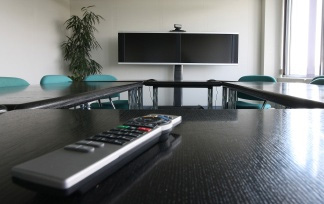 Where are these systems installed?
Board rooms
Conference rooms
Huddle rooms
Training rooms
Call centers
Executive offices
Banquet facilities
Hotels
Break Rooms
Anywhere multi-media presentation events are held
Turn-Key A/V Communications
Today's work place requires multi-media presentation and communications in many forms. We can design, install, program, and service all the audio-visual elements to deliver top grade solutions to your business. From a traditional hardwired A/V system to a wireless A/V system with wireless microphones, interactive whiteboard, a portable A/V system, and podium centric presentation control, we've done it all.
What does my business need?
Whether you need an LCD, projector screen, projector, sound system, or everything, we can do it for you. We start by meeting with you so we understand your business. We explore possible options and develop the design concept that meets your objective within established parameters. We draw up the schematics and present the system to you. We make sure our design fits with your room decor, acoustics, lighting, and any interior decorators plans.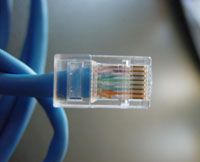 Experience
In the rapidly evolving landscape of information technology and communications, you can depend on Functional Communications to offer you the right solution for your business. The integration of audio and video systems requires the experience and know-how of a well-trained sales and technical staff. You can count on us to deliver reliable, dependable, and cost effective solutions that incorporate the latest in presentation and communication technology.
Future proof your system
No work place is the same. Functional Communications offers state of the art customized audio and video integration designs for today's professional work environments. The right combination of audio and video systems can offer a company the necessary communications media required for today's — and tomorrow's — sustainable business practices. Contact us to see what we can do for your business. Click here to learn more about Speakers, Amplifiers, Sound Masking, LCD's, Projectors & Screens, AV Integration Control Systems, Interactive Whiteboards, and Video Conferencing.
Request More Information:
ROCHESTER, NY
100 Victor Heights Parkway
Victor, NY 14564-8934
585.924.3520
585.924.3652 fax
SYRACUSE, NY
Corporate HQ
5900 South Salina St.
Syracuse, NY 13205-3326
315.469.7711
315.469.8842 fax
ALBANY, NY
23 Krey Boulevard
Rensselaer, NY 12144-9681
518.286.1061
518.286.1065 fax

Providing all of MOOD's global services, we can offer your business exclusive professional applications at the local level.