Collaboration Solutions
Combine the simplicity of a dry erase board and the power of a computer with an interactive whiteboard. Interactive whiteboards bring collaboration to any environment – and best of all, it's easy.
Collaborate with colleagues. Deliver dynamic information in your presentation. You can communicate more productively, efficiently and interact through digital technology.
Increase Presentation Productivity
With collaborative solutions, conferencing becomes a visual, interactive experience, and keeping records of meetings is effortless. Teamwork is a collaborative, inclusive process that produces valuable ideas, whether your colleagues are in the same meeting room or on different continents.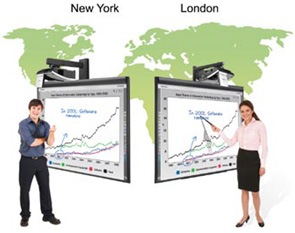 The Human Element
Collaboration isn't about technology. It's about people, ideas and the ability to bring them together in a meaningful way – and most of all, we make it easy. We welcome you to explore our collaboration solutions – Interactive White Boards, Teleconferencing, Video Conferencing, Audio-Video Integration.
Request More Information:
ROCHESTER, NY
100 Victor Heights Parkway
Victor, NY 14564-8934
585.924.3520
585.924.3652 fax
SYRACUSE, NY
Corporate HQ
5900 South Salina St.
Syracuse, NY 13205-3326
315.469.7711
315.469.8842 fax
ALBANY, NY
23 Krey Boulevard
Rensselaer, NY 12144-9681
518.286.1061
518.286.1065 fax

Providing all of MOOD's global services, we can offer your business exclusive professional applications at the local level.