The Benefits of Commercial Sound Masking
Sound masking is known by many names: Speech Privacy, White Noise and Ambient Noise System, to name a few. But no matter what we call it, the goal of commercial sound masking is to improve speech privacy by introducing background or ambient sound that will cover up or "mask" the intelligibility from distant conversations. Sound masking is electronically generated, unobtrusive ambient sound that is tuned to work in harmony with other acoustical factors such as ceilings, furniture panels and walls.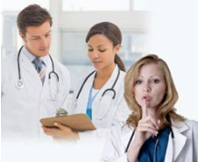 Why Use Sound Masking in an Open Office?
In the open office environment, studies have reported that the number one facilities problem for employees is speech noise distractions. Due to increasing workstation densities increasing and office teaming trends, distracting speech noise levels have significantly increased. According to estimates, most offices are not designed to address speech noise distractions. Consequences from distracting speech noise are clear. Most significant are losses in employee concentration, customer privacy, productivity, accuracy and satisfaction.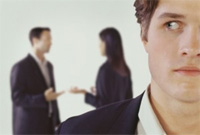 Why Sound Masking in a Closed or Private Office?
Problematic closed plan facilities include private offices, conference rooms, board rooms, medical offices and treatment rooms, where privacy may be compromised if speech can be understood by listeners outside the room. A common cause of this problem is that most walls stop at the ceiling line and do not penetrate past a partial or drop ceiling. This can result in private corporate or medical information discussed behind closed doors becoming public.
HIPAA Sound Masking
The Health Industry Portability and Accountability Act of April 1999, states that companies need to make a "reasonable effort" to protect and safe guard people's private information. HIPAA Sound Masking is a cost effective way to provide that reasonable safeguard, and if implemented properly, it can improve the overall patient and staff experience.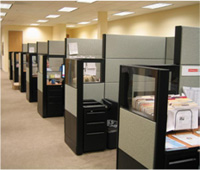 The ABCs of Confidentiality Solutions
There are three ways to control sound in an office:
Absorb Sound
Block Sound
Cover Sound
Most of the time, individuals have no control over the type of ceiling material, lighting fixtures, wall material, insulation, furniture panels or furniture that is present in an office or medical setting. These items would help Absorb or mask sounds & ambient noise. When Absorbing or Blocking techniques do not solve speech confidentiality issues, it's time to examine sound masking technology. A professionally designed, installed and tuned sound masking system will perform the critical task of covering or "masking" confidential speech.
Conclusion:
Sound masking is the most cost effective acoustical solution for helping increase worker concentration and protecting confidentiality. Functional Communication Systems Design team and professional technicians are prepared to design and install a sound masking system customized to solve all your speech privacy concerns.
Learn more about our Sound Masking Partners or Contact any of our regional offices to speak with one of our sound masking professionals.
Request More Information:
ROCHESTER, NY
100 Victor Heights Parkway
Victor, NY 14564-8934
585.924.3520
585.924.3652 fax
SYRACUSE, NY
Corporate HQ
5900 South Salina St.
Syracuse, NY 13205-3326
315.469.7711
315.469.8842 fax
ALBANY, NY
23 Krey Boulevard
Rensselaer, NY 12144-9681
518.286.1061
518.286.1065 fax

Providing all of MOOD's global services, we can offer your business exclusive professional applications at the local level.