YOUR BRAND EXPERIENCE – ALL ON ONE PLATFORM
Take complete control of your in-store media solutions with Harmony – the original Brand Experience Platform. Access our mobile-friendly CMS and easily manage your Music, Messaging and Digital Signage. Supported by our robust and reliable audiovisual media player, you can drive all media elements of your brand experience in total harmony.
ONE SOLUTION.
ENDLESS POSSIBILITIES.
Say goodbye to multiple vendors and control sites. Meet Harmony, the next-generation Brand Experience Platform. Your end-to-end branding solution for Sight, Sound, Scent, Social, and Systems. Managing your in-store media has never been easier, smarter, and more affordable. Create and control your Customer Experience in Harmony.
YOUR IN-STORE EXPERIENCE HAS NEVER BEEN THIS SIMPLE
Whether you're DIY and want full control or simply want to let the platform take the reins, Harmony makes managing your brand experience super sleek and simple. Login as often as you like and schedule content for any location, groups of locations or company-wide.
Centralized content management system
Mobile-friendly online monitoring
Secure, reliable technology
Simple plug-and-play installation, or let us install for you
Responsive support by phone and email
THE MOST VERSATILE TECHNOLOGY
Flexible software requires versatile hardware. That's why Harmony is supported by our all-in-one Audio & Visual media player. Reliable, robust and secure, the Harmony Digital Media Player supports Music, Messaging and Digital Signage – making it the world's most efficient way to manage your entire brand experience.
Maximum reliability – continues playing content in the event of internet disruption
Simple plug-and-play installation
WiFi compatible
Supports Music, Messaging and Digital Signage
Store up to 256 GB of content
Energy and bandwidth efficient
Easily monitor all Harmony Players on your network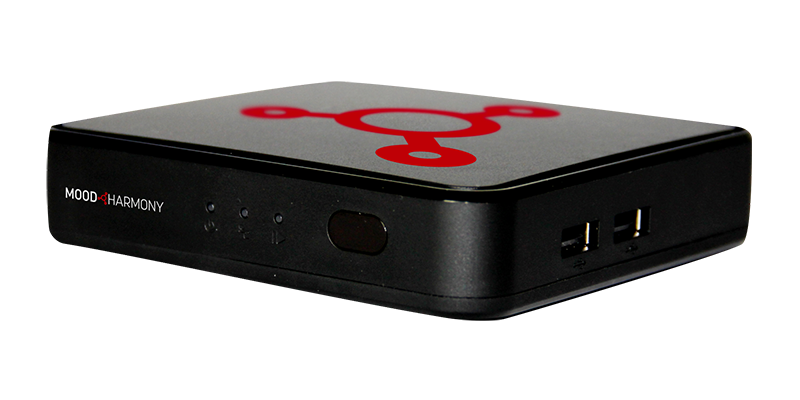 TAKE CONTROL OF YOUR BRAND EXPERIENCE
Contact us today to bring the power of Harmony to your business.