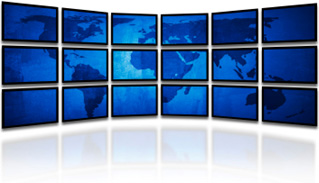 Digital Signage Marketing
One of the fastest developing aspects of business marketing, digital signage offers you the ease of changing one or hundreds of signs with a few clicks of a mouse. Customizable Digital signage is a powerful and highly effective method to market products and services. Computer generated images are broadcast on a closed network of LCD monitors or projection screens. Display devices can be stand alone units or a series of networked units around the world.
Content Creation
We have multiple platform solutions that enable you to upload multiple image and video types, assign robust scheduling parameters, and include RSS feeds and other dynamic content.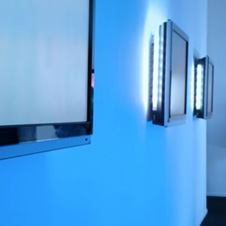 Digital Signage Installation Options
In one way or another all businesses can benefit from a digital signage system. Installation locations are endless as are the applications. Wherever a message needs to be communicated, digital signage is a perfect option. Here are a few examples:
Mall Digital Signage and Retail placement can display product information, drive consistent brand awareness and provide attractive Point of Purchase displays.
Digital Directories offer easy updates or modifications and can include touch-screen options to find specific areas within a building layout.
Used in waiting rooms, Health-care Digital Signage can provide wellness information, treatment options, provide entertainment and alter wait time perceptions.
Airport Digital Signage can serve a wide variety of functions beyond flight information, such as weather, directions and advertising.
Hotel and Casino Digital Signage provides quickly customizable way finding, and event schedule displays.
Restaurant Digital Signage allows for regional menu updates reflecting local prices & offerings.
Found in financial institutions and Banks, Digital Signage can display real-time statistics, provide consistent product offerings from branch to branch and increase product awareness & increase up-selling.
Spread around a campus, digital signage can inform students about events, class change and cancellation information, display critical alerts and emergency notifications and provide navigational assistance.
Digital commercial signage including digital lobby signage is a convenient way to educate and inform visors and employees of new products and services, provide customizable greetings, and alert individuals in case of emergency.
Efficient Marketing Updates
Along with the effort to be better stewards of our environment, you can update marketing materials – instantly, without traditional print materials being discarded into local landfills using digital signage. Engaging Syracuse, Rochester and Albany Digital Signage solutions throughout New York, Functional Communications will install digital signage solutions to fit your budget and marketing needs throughout the region and beyond. Contact your local office to learn more.
Learn more about Digital Signage Products and Digital Signage LCD Products.
Request More Information:
ROCHESTER, NY
100 Victor Heights Parkway
Victor, NY 14564-8934
585.924.3520
585.924.3652 fax
SYRACUSE, NY
Corporate HQ
5900 South Salina St.
Syracuse, NY 13205-3326
315.469.7711
315.469.8842 fax
ALBANY, NY
23 Krey Boulevard
Rensselaer, NY 12144-9681
518.286.1061
518.286.1065 fax

Providing all of MOOD's global services, we can offer your business exclusive professional applications at the local level.