With commercial TV, you get superior service and support from trained technicians who are dedicated to your customized system. Leave your audio and video needs to us, so you can focus on running your business. And with hundreds of satellite TV system installations to date, we have plenty of experience to do the job right for you — the first time.
Satellite TV and custom television programming options make it easy to choose the right TV solution for your location, whether you want to complement your lobby, board room, conference room, break room, bar or other areas.
We have multiple flat panel and high-definition options, all with fantastic commercial warranties. And with commercial DISH Network™ programming packages, we offer a wide selection of HD channels on the market today.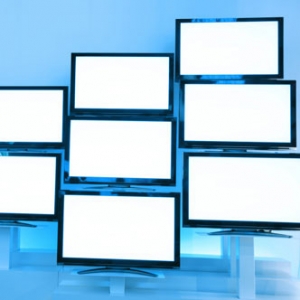 Full Programming Lineup
Our DISH Network™ options provide targeted, cost-effective solutions that entertain and inform your customers with all their favorite channels.
HD
DISH Network™ offers the most comprehensive HD channel lineup in the commercial marketplace today. Enjoy the astonishing clarity of your favorite Sports, Entertainment, Educational and Specialty channels.
Quality Equipment
Functional Communications has partnered with the best brands in the industry to provide exceptional warranties and service on all of our commercial TV equipment.
Satellite TV Equipment & System Installation
We offer a worry-free contract which includes one low fee for all receiving equipment. This includes all of the satellite TV receiving system components such as the proper dish antennas, receivers, switches and cabling. There are no repair costs and we are responsible for keeping all equipment in working order.
This unique and very popular model is highly valued by our clients who understand the costs and challenges of receiving support from other satellite TV programming providers. Our local technicians come to know your needs as a client and also the needs of your leased equipment. This means better, faster support with greater satisfaction.
High-Definition Receivers
Brilliant color. Vivid detail. Breathtaking depth. Cutting-edge receivers and DVRs delivering the most HD content in the industry.
Standard-Definition Receivers
We offer feature-rich satellite TV receivers for standard-definition programming. Take advantage of a receiver that supports one or two televisions.
LCDs
Experience the best in high-definition quality with the newest product lines from LG, Sharp, Viewsonic, and other leading manufacturers we carry. These sleek and expansive displays bring television to life by producing clearer, sharper and more-detailed images with rich textures and vivid colors. Plus, the high contrast ratio and brightness provide superior viewing regardless of room lighting conditions. Televisions designed for the home don't measure up to the standards of those designed for business television broadcasting. We offer a minimum two-year commercial on-site warranty, with an option of the industry's most comprehensive parts-and-labor maintenance plan.
Visit our LCD's page for more information.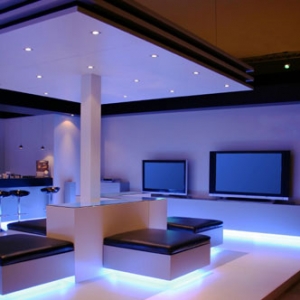 Sound Systems
Enhance your video experience with a premium sound system. Functional Communications offers high-performance audio & video integrated solutions at affordable prices. Our engineers take everything into consideration — from the experience you want to create, to the acoustics of your building, to the aesthetics of your interior design, we make sure you have the perfect audio-video integrated system to maximize your client experience. Click here to learn more about our speakers and amplifiers.
Custom Installation
Tired of dealing with multiple vendors like the cable company and equipment providers? FCC knows that much of their support structure is outsourced sub-contractors — whose companies come and go, often with very inconsistent service.
If you're ready to make it easy, let our installation and service teams show that FCC is the best choice for your business. 90% of failures are due to rough handling upon installation. Let FCC's professional technicians install and maintain your investment. Our record speaks for itself.
The region's largest network of experienced technicians.
The #1 installer of commercial DISH Network™ systems in NYS.
Thousands of installations — from single-story buildings to fully integrated skyscrapers.
Installations adhere to all local codes and ordinances.
All wiring is concealed for a more appealing installation.
The latest satellite tracking technology reduces outages due to inclement weather.
All technicians are fully trained and equipped with the necessary parts for any repairs.
Request More Information:
ROCHESTER, NY
100 Victor Heights Parkway
Victor, NY 14564-8934
585.924.3520
585.924.3652 fax
SYRACUSE/BINGHAMTON, NY
Contact Our Syracuse & Binghamton Office
Corporate HQ
5900 South Salina St.
Syracuse, NY 13205-3326
315.469.7711
315.469.8842 fax
ALBANY, NY
23 Krey Boulevard
Rensselaer, NY 12144-9681
518.286.1061
518.286.1065 fax

Providing all of MOOD's global services, we can offer your business exclusive professional applications at the local level.