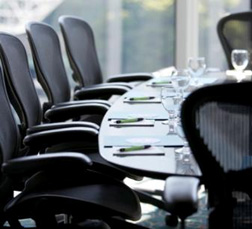 What is Teleconferencing?
Have you ever found yourself huddled around a telephone with your colleagues for a conference call? We have the solution for you. Functional Communications can provide you a teleconferencing system. Teleconferencing makes it easy for a group of people in a training room, board room or conference room to communicate over a phone system. With a few speakers in the room, some strategically located microphones, and a dial pad, you can transform your room into an audio-conferencing center.
How is Teleconferencing used?
Teleconferencing can be used to enhance web training, video conferencing, multimedia applications, distance communications, sales training, and group communication in general. The reliability, flexibility and performance of our comprehensive solutions save organizations time and money by creating natural environments for effective and efficient personal and group communication.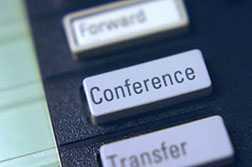 The Benefits
The benefits of audio conferencing have never been as apparent as they are today. With travel costs and liabilities increasing, business owners are drastically cutting corporate travel and looking for alternatives. And it's not just about economics. Reducing our carbon footprint is the right thing to do. Effective audio conferences are the best way for users to communicate without having to travel and have a better work – life balance. Decisions can be made quicker, and damage to the environment is greatly reduced. But it requires the best in audio conferencing technology. Take it from us — we're the experts.
Do you have Video Conferencing with Poor Audio Quality?
If video conferencing is not needed, because voice audio is the only necessary element required, then teleconferencing is the solution for you. And if you already have a video conferencing system with marginal audio quality, which is very common, let us take a look at your system so we can augment your video system and bring the audio quality to a higher standard. Contact us today to see what solution will fit your needs. Click here to learn more about Teleconferencing and Video Conferencing.
Request More Information:
ROCHESTER, NY
100 Victor Heights Parkway
Victor, NY 14564-8934
585.924.3520
585.924.3652 fax
SYRACUSE/BINGHAMTON, NY
Contact Our Syracuse & Binghamton Office
Corporate HQ
5900 South Salina St.
Syracuse, NY 13205-3326
315.469.7711
315.469.8842 fax
ALBANY, NY
23 Krey Boulevard
Rensselaer, NY 12144-9681
518.286.1061
518.286.1065 fax

Providing all of MOOD's global services, we can offer your business exclusive professional applications at the local level.