The three key elements of sustainability are Ecology, Economy, and Experience.
Let's put the three elements into context: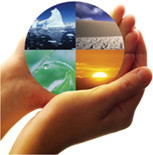 Ecology refers to how a building impacts the environment– we address that
Economy refers to how a company can save operational costs through sustainable business practices-we address that
Experience refers to the actual work place environment with sustainable business practices in place-we address that too
We consider all three key elements of sustainability, as we have done for years. All three key sustainable elements are interdependent. We design audio and visual communications systems that help businesses use less building materials, use less electrical power, cut their carbon footprint, and ultimately create a better workplace environment and experience.
How are multi-media technology and sustainability connected? Glad you asked. One word: Efficiency.
Video conferencing: Using video conferencing for meetings and telecommuting versus traveling saves on carbon emissions, time, and money, resulting in higher productivity, and a measurable ROI—your CPA and CFO will like this. There are valid reasons to meet in person, but as we move progressively further into our virtual worlds, the efficiencies of video conferencing will continue to shape our work habits and lifestyles. Visit our page on Video Conferencing or Contact Us.
Sound masking / white noise generating: Commonly referred to as White Noise, sound masking works in direct conjunction with LEED architecture. LEED architecture (Leadership in Energy & Environmental Design) is the design and management of eco-friendly building and space planning practices. LEED work spaces typically feature large, open area work spaces—and acoustics are compromised. Sound masking/white noise solves this. White noise is an engineered sound broadcast into a work space to create conversational privacy among building occupants. Visit our page on sound masking/white noise or Contact Us.
Mood Media / FCC Local Manufacturers & Distributors: Functional Communications makes a cognitive effort in ordering equipment from the most local manufacturing and distribution centers. By doing this, we do our part in minimizing the carbon footprint in the shipping process for our jobs. If we can use a distribution center in the Northeast instead of the West Coast — we do. If we can use a manufacturer in New England versus overseas — we will. At every opportunity, we use equipment with energy star ratings. We take every opportunity to be environmentally responsible corporate citizens. See our esteemed list of Partners.
For companies to "go green," they need solutions that positively impact the environment without raising costs or sacrificing productivity. Implementing "green" practices enables companies to save money and improve efficiencies. Contact Us to see how our systems and services can help you infuse efficiencies into your business.
Request More Information:
ROCHESTER, NY
100 Victor Heights Parkway
Victor, NY 14564-8934
585.924.3520
585.924.3652 fax
SYRACUSE, NY
Corporate HQ
5900 South Salina St.
Syracuse, NY 13205-3326
315.469.7711
315.469.8842 fax
ALBANY, NY
23 Krey Boulevard
Rensselaer, NY 12144-9681
518.286.1061
518.286.1065 fax

Providing all of MOOD's global services, we can offer your business exclusive professional applications at the local level.