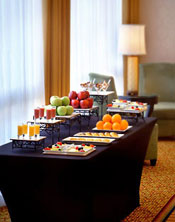 When you enter your favorite hotel, fast casual/fine dining restaurant, or lifestyle center, you're looking for a comfortable atmosphere and a welcoming environment. We provide Mood to the best facilities throughout Upstate New York, serving their guests all day, every day, with just the right touch. Using the right combination of a sound system, video displays, and ScentAir, you can shape your client experience to fit your brand image. For many hotels we serve, our applications don't stop in the lobbies; we provide full audio and video systems in the ballrooms, banquet centers, and meeting rooms. These installed or portable systems provide you the ease of use of your own equipment and liberate you from the hassles and expense of equipment rental. Your audio systems can be a value-added service you can upsell to your banquet and meeting clients as well! Give us a call, Contact Us to see how a few simple upgrades can enhance your hospitality experience. And visit our long list of Solutions and best in class Partners to see which ones fit your business.
Request More Information:
ROCHESTER, NY
100 Victor Heights Parkway
Victor, NY 14564-8934
585.924.3520
585.924.3652 fax
SYRACUSE, NY
Corporate HQ
5900 South Salina St.
Syracuse, NY 13205-3326
315.469.7711
315.469.8842 fax
ALBANY, NY
23 Krey Boulevard
Rensselaer, NY 12144-9681
518.286.1061
518.286.1065 fax

Providing all of MOOD's global services, we can offer your business exclusive professional applications at the local level.