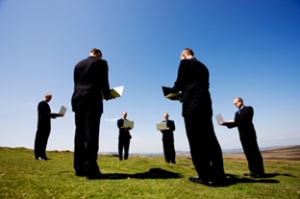 "I want to call my attorney!" Don't let that client be put on hold with dead silence—make sure you have the appropriate on hold application to connect with that client. Functional Communications provides audio and video services to legal firms across the state. When you host client meetings and negotiation sessions, provide speech confidentiality with an installed sound masking/white noise system. From background music to sound masking to conference room audio video solutions, we will provide the good counsel you deserve. Contact Us to see how you can use the power of audio and video in your legal experience. And visit our long list of Solutions and best in class Partners to see which ones fit your business.
Request More Information:
ROCHESTER, NY
100 Victor Heights Parkway
Victor, NY 14564-8934
585.924.3520
585.924.3652 fax
SYRACUSE, NY
Corporate HQ
5900 South Salina St.
Syracuse, NY 13205-3326
315.469.7711
315.469.8842 fax
ALBANY, NY
23 Krey Boulevard
Rensselaer, NY 12144-9681
518.286.1061
518.286.1065 fax

Providing all of MOOD's global services, we can offer your business exclusive professional applications at the local level.